On a rainy afternoon in 1951, Judith Shutt and her family saw The Laurey Puppets (later of "Mr Turnip" TV fame) while on a seaside holiday - an event which was to change all of the Shutt family's lives thereafter. The whole family enjoyed the Laurey Puppets enormously and as they left the show, they saw a poster advertising a Puppet Exhibition at the Royal Hotel, Woburn Place, near Russell Square, London, organised by the British Puppet and Model Theatre Guild.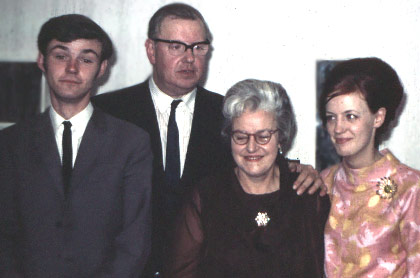 The family decided to attend the 1951 Guild Exhibition, but as they were not members, they had to stand in a long queue to gain admission. The wait was worthwhile, because once inside, they met H W Whanslaw, who encouraged them to become more involved in puppetry and Whanslaw's books became required reading over the coming months.
In an article for "The Puppet Master" Magazine in 1996, Judith recalled: "The first puppet my Father (Ernest) made was a little 10-inch Pinocchio. I think it was inspired by Eric Bramall's Kasperl. I still have him today."
"Christmas morning 1952 and my brother Plugg (Ernest Jr) and I were up early, as kids are on that morning. Around the tree were the small presents but hanging from the curtain pelmet were two big puppets - 18 inch high - Carmen Miranda and a South American Guitarist. So the whole Christmas was spent practising. My Mother (Muriel) had at last found something she could use her Art School training on as a dress designer."
"By the time the Coronation came in June 1953, I think we had about six puppets. Our first show was a Street Party. It must have rained, because we did the show indoors in a small factory in Raymouth Road, Bermondsey. Dad looked after the sound on 78 rpm records, Ma, Plugg and I all worked a puppet or two. On the way home, we decided 'The Shutt Marionettes' did not sound right. Dad came up with the name "MEJANDES" - Muriel, Ernest, Judith AND Ernest Shutt."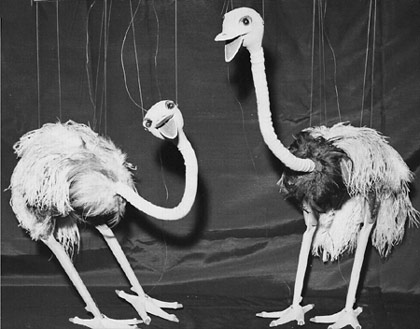 This exciting new family activity rapidly developed and soon the whole family were heavily involved in the various building, sculpting and performing tasks required to run a successful marionette troupe. Judith also found time during this period to work as a Pelham Puppets Demonstrator for several seasons at Hamley's Toy Shop in Regent Street, London.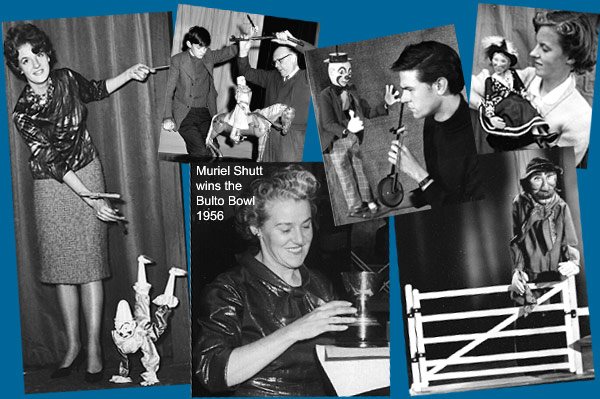 It was around this time that fellow puppeteer and Guild Member, Christine Glanville, who had been working for AP Films, contacted Judith to say that they were looking for a new floor puppeteer and would she be interested in applying? Judith soon found herself working with Christine Glanville and Mary Turner on Fireball XL5, the first of many TV series in a long and distinguished association with television puppetry.
| | |
| --- | --- |
| | |
Filming for Fireball XL5 was divided between two teams that shot in tandem and on two shooting stages; the largest of which housed the main sets and a large marionette bridge that was suspended from the roof. Filming took place over a period of a week to ten days and then moved to a smaller stage that had a moveable bridge. For the puppeteers, this involved spending many long hours in awkward positions, high above the stage in the heat from lamps, supporting quite heavy puppets and as the marionettes were fitted with electro-magnets to activate their mouths, the puppeteers would frequently receive electric shocks if the wires crossed.
Following Fireball, the next TV series, Stingray, entered pre-production and the studio puppeteers re-located back to the puppet workshop to start assisting with the build of the new characters. The whole process lasted 6 months. The puppeteers had to be multi-skilled and proficient in construction of the figures as well as their operation. Although the raw materials for puppet construction were rapidly changing in terms of sophistication and durability, the basic principles of the traditional marionette remained the same.
Stingray was again hugely popular with TV viewers and so followed the most successful and best remembered of the Gerry & Sylvia Anderson productions - Thunderbirds.
With each new series, the design style had moved more and more towards realism and with Thunderbirds, this manifested itself by the characters being, for the most part, shot from the waist up, static, seated or in craft - all intended to avoid the marionettes ever being seen walking!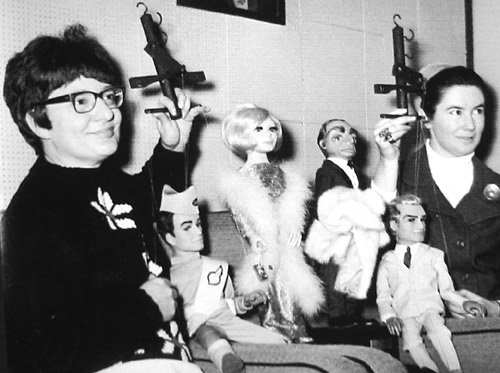 After working on the three TV series and also the two spin-off cinema films from the Thunderbirds series - "Thunderbirds are Go" and "Thunderbird 6" this had been a very intense period of production and Judith decided the time had come to move on and discover new horizons.
The Mejandes Marionettes were still presenting live shows during Judith's time with AP Films and also making and operating puppets for other people. Muriel and Plugg worked with John Dudley for a Summer Season at the Winter Gardens, Eastbourne and made puppets for the Dudley Marionettes' The Tempest production among others.

In 1969, Mary Turner and John Read formed their own specialist puppet film production company Cinemation, described by fellow puppeteer Sue Dacre as "a magical place to work". Judith was asked to join them from the start, for their first commission for ITC The Adventures of Rupert Bear. Over 100 episodes were made with Mary Turner now directing, designing and sculpting, as well as co-producing with John Read. Many other series followed which have since become Children's TV Classics, with Here Comes Mumfie and Cloppa Castle being among the most fondly remembered.
Since the puppet with strings fell out of favour with the TV camera, Judith has remained a powerful and respected voice in British Puppetry, both as a maker and in her tireless work behind the scenes for the British Puppet & Model Theatre Guild.
Plugg had joined Judith to work on Thunderbirds and stayed on with AP Films, continuing his career in the world of Film Special Effects.
In addition to being remembered for her puppetry, the Guild's Lifetime Achievement Award is named in Muriel Shutt's honour.