Prior to its re-location to Shugborough in 1993, Douglas Hayward's Puppet Collection was housed in its own Museum in the Staffordshire Village of Abbots Bromley.

The building, a former shop premises, was located in the main Village High Street and had a large front room housing the main exhibition, a middle room used for serving refreshments and a further room at the rear of the premises devoted solely to the work of Waldo Lanchester.

The main room also housed Douglas's fully equipped permanent Proscenium Marionette Stage, which was used for demonstration purposes. This stage had previously been used for marionette performances during the building's former life as a Theatre (Opening Ceremony performed by Waldo Lanchester in 1975).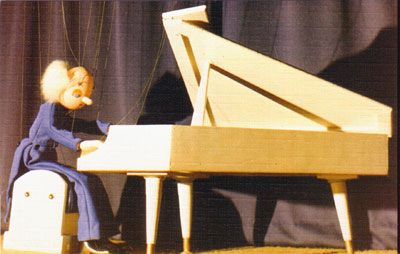 Several Exhibitions and Festivals of the British Puppet & Model Theatre Guild were held in Abbots Bromley during the 1980s, with the Puppet Museum forming the focal point for activities. On these occasions, puppet performers, makers and enthusiasts from all over the Country converged on the village and events spread to the Village Hall and other Function Rooms to accommodate the large number of attendees.
The Museum played an important role in British Puppetry and over the years, hosted performances, films, workshops, meetings, lectures and exhibitions by both British and overseas puppeteers, as well as providing a unique tourist attraction for the visiting public.