THE CAMBRIA PUPPETS
Presented and Produced by W A Call of Monmouth
The origin of this troupe dates back to the Autumn of 1937, when photographer and church organist William Alfred Evan Call began to study marionettes; mainly as a pastime and hobby.
Having lived a considerable portion of his earlier life in France, he was always interested in puppetry and had for some time operated quite a large and elaborate glove puppet theatre. The more artistic possibilities of the string marionette, however, had a stronger appeal and it was with the object of trying to improve on some of his earlier and rather crude puppets that led W A Call to make some experimental figures and work out his own ideas.
| | |
| --- | --- |
| Bertie & his Horse | Daphne & the Squander Bug |
The troupe first appeared in public in October 1938 at the Annual Exhibition of the British Puppet & Model Theatre Guild held in London at Victory House, Leicester Square. Here, they were given a most flattering reception, daily stage shows being given as well as continual floor demonstrations for the benefit of visitors, who showed the greatest interest and were in some cases invited to try their hands at pulling the strings.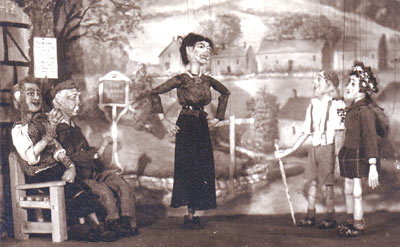 Landlady & Hikers from "Village Society"
Performances were subsequently given all over the country including Cheltenham Town Hall, Blackpool Tower, Warrington, Bolton, Manchester, Cambridge among many other towns. In July 1939, they were invited to make the first colour and sound film with marionettes. Unfortunately, the outbreak of war prevented any further developments in this line.
The Cambria Puppets had their headquarters at Monmouth, where a permanent theatre was housed above W A Call's Photography Shop and performances were given two or three times weekly throughout the year.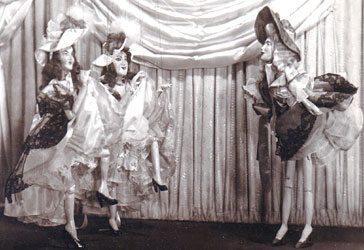 The Giglet Sisters by W A Call
The shows were aimed at an adult audience and ran about one and a half hours, with very elaborate stage lighting, scenery and props. The programme usually consisted of short plays, variety turns and caricature sketches, often based on recognisable local characters. The marionettes were costumed by Call's daughter, Queenie, who was also the Assistant Manipulator for the shows.
By the early 1950s, the popularity of the marionette performances in Monmouth was steadily declining. As it was becoming increasingly difficult to fill even the tiny 35-seat auditorium, the shows were gradually wound down and performances eventually ceased.
W A Call died in 1965 at the age of 87. After his death, the marionettes were not found in his shop, where he lived in the basement and if they are still in existence, their current whereabouts is not known.
PROGRAMME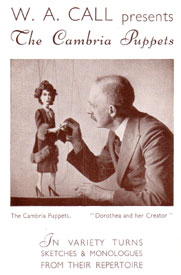 - PART 1 -
MADEMOISELLE PLASTICINE (Trapeze Artist)
POMPINELLO THE CLOWN and his pole balancing act
THE EXTRAVAGANT MISS DAPHNE AND BINKIE
MADEMOISELLE VERONIQUE (Cabaret Star)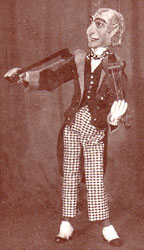 Professor Glissando
PROFESSOR GLISSANDO (The World's most conceited Violinist)
MONSIEUR LAPATTE DE GUIMAUVE (Xylophone Artist)
MADEMOISELLE YVETTE retires for the night
SNOWDROP, JOSEPHINE AND UNCLE RASTUS
OOPSIE AND DAISY (Acrobats)
MRS GUPPY AND MRS GARBAGE (Our Theatre Charladies)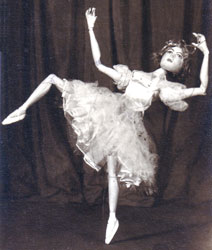 Madame Kickemova
MADAME KICKEMOVA (of the Russian Ballet)
THE GRAND SULTAN OF HASSAN AND HIS MANY WIVES
MR NOBODY AND PARTNER

- PART 2 -
SKETCHES AND SHORT PLAYS
A FABLE OF THE LYBIAN DESERT Music by Tchaikovsky
DIGGING TOO DEEP (A rustic play)
THE RIVAL MAGICIANS (a fantasy)
THE PIPES OF PAN (Woodland Ballet)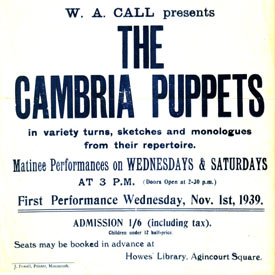 Puppets manufactured and operated by W A CALL
Costumier and Assistant Operator QUEENIE CALL