From The Ebor Marionettes Publicity Leaflet:

These Marionettes, designed and made by a professional sculptor, avoid the caricature of many European puppets. They are not uncomfortably stylised and so are acceptable to people of all tastes and cultural standards. In the little theatre in Chiswick, a very mixed audience enjoys them - highbrows, lowbrows, adults, children, artists, businessmen, poets ... Their repertoire includes plays, fantasies, musical items and a dozen separate items of variety.

Puppets by John Bickerdike
Costumes by Doris Bickerdike
Scenery by John Bickerdike & Rhoda Dawson

Puppeteers & Speakers: Doris Bickerdike, John Bickerdike
Rhoda Dawson & Christine Fletcher (Christine Glanville)

Ebor Marionettes Publicity Leaflet


British Puppet & Model Theatre Guild Archives
A typical programme at the Guardship Theatre (which seated approximately 50 people), would be made up of a selection from plays or operas such as those mentioned above or chosen from a large repertoire of lighter items such as "Little Wendy, the Accordion Wonder", "Gypsy Violinist", "Witches Frolic" or "The Murgatroyds sing Opera."
In an excerpt from Eric Bramall's (unpublished) autobiography in The Puppet Master Magazine, Autumn 1996, Eric comments:
"...Then there were the Ebor Marionettes, run by Doris and John Bickerdike and their son, a show which commanded my total admiration. John, who made all the puppets, was a professional woodcarver of the highest order. He specialised in the creation of exquisite figures of angels and other religious figures for the adornment of cathedrals and churches. Doris, his wife, was without doubt, the most skilful marionette manipulator I have ever known. On a number of occasions, I operated puppets in their show and every time I felt it was an honour to have been asked. I learned a great deal from Doris, partly by listening to her advice and partly by watching her working."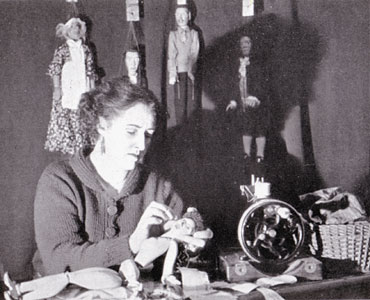 Doris Bickerdike adding finishing touches to a marionette wig
From the October 1947 edition of "The Puppet Master" Magazine
THE EBOR MARIONETTES
by Mrs P Fletcher
I recently had the pleasure of visiting the Marionette Theatre of Mr & Mrs Bickerdike, established at The Guardship. The large and lofty studio struck me as being excellent for the purpose of a Marionette Theatre. There is ample room for the audience of fifty or more and the stage occupies the centre portion of the studio. The proscenium opening is draped with gold crushed velvet curtains and an embroidered drop curtain. Behind, there is a large workshop, suitably equipped. Some of the puppets I saw in course of construction were very fine. The walls of the auditorium are decorated with many interesting photographs, costume designs and puppets, some original scenic designs by Mr Bickerdike, a number of items of historical interest, as well as many sheets of characters of our well-loved Penny Plain Twopence Coloured Model Theatre.
On the evening of my visit, the first part of the programme included Sea Cave, a Fantasy, Dresden China, a Dream, The Witches Frolic, a Nightmare and The Murgatroyds sing Opera, a Burlesque Ballad Act. Following this, came A Cabaret, featuring 1: Pippin, 2: Wendy, 3: George Tapps, 4: Solo from the sands and 5: Anna Steps Out. The final item was a scene from Richard Brinsley Sheridan's immortal comedy, The School for Scandal.
'Anna' is the perfection of movement. This puppet is beautifully made and in the expert hands of Doris Bickerdike, becomes vividly alive. 'The Murgatroyds' are delightfully amusing. The head movements of the gentleman of the duo conveys an illusion of ever-changing expressions chasing each other across his seemingly mobile features.