The Hertfordshire Puppeteers were interested in both Traditional Country Dance and Puppets.
In the early 1920s, they performed regularly in Villages throughout the Country. The glove puppets, carved by Mrs Nancy Stone, were mainly stock characters which appeared in many different plays.
Nancy Stone, who was an excellent wood-carver, described herself as much more interested in making the puppets than performing with them, but she did travel extensively with the Puppet Company and performed plays written by the Local Drama Group. One of her glove puppets was a caricature of George Bernard Shaw and she remembered performing on the Green at Ayot St Lawrence, Hertfordshire, where George Bernard Shaw lived, in the hope that he might come out to see the puppet of him. On that occasion, he did not, but on another occasion, he was very kind to Nancy in assisting her in the production of carved book-ends with caricatures of himself and Shakespeare.
Douglas Hayward acquired some of the Hertfordshire Puppets in 1985 for the Puppet Collection, now housed at Staffordshire County Museum, Shugborough. Unfortunately, Mrs Stone had only recently sold the George Bernard Shaw and the Farm Worker figures "for very little," to a local Antiques Dealer, something she later regretted, as she wrote that she would rather all the figures had become part of the Hayward Collection, but "... they were living a useless existence in a drawer at the time."
In a letter to Douglas Hayward in 1985, Nancy Stone said that she felt her figures had suffered from being too heavy and tiring to work. She was confident that "modern fibre glass or papier mache would be much lighter than wood to handle," but her figures had at least "stood up to quite a bit of bashing about."
Thank goodness they did.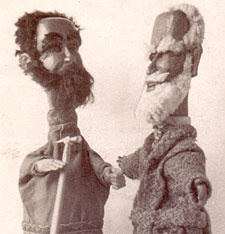 A Russian & George Bernard Shaw