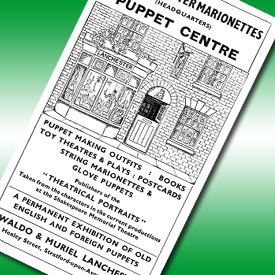 LANCHESTER SHOP LEAFLET
A Publicity Flyer from Waldo & Muriel Lanchester's Puppet Shop at 39 Henley Street, Stratford Upon Avon.

Reference to the "Shakespeare Memorial Theatre" would date this flyer pre-1960s, as the Theatre was re-named the Royal Shakespeare Theatre in 1961.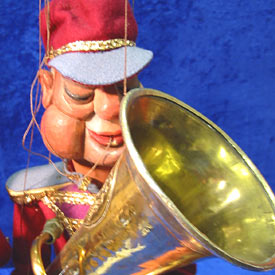 BANDSMAN BY JACK WHITEHEAD
FOR WALDO LANCHESTER
One of five Bandsmen (conductor and four instrumentalists) made by Jack Whitehead for Waldo Lanchester, currently in the collection of the British Puppet & Model Theatre Guild. It is doubtful that Waldo ever performed these figures, but they made a fine display in his shop.
The head is carved in such a way that the cheeks puff out very effectively at the pull of a string.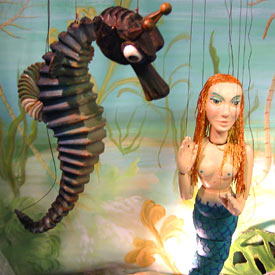 LANCHESTER'S UNDERWATER BALLET
Two marionettes from Waldo Lanchester's Underwater Ballet currently in the collection of the British Puppet & Model Theatre Guild.

The Underwater Ballet remained unaltered, except for some replacement fish, throughout its long life from 1939 to the retirement of Waldo's large stage in 1958.

The original flat cut-out fish were replaced by more elaborate three-dimensional ones in the 1950s by Frank Rose.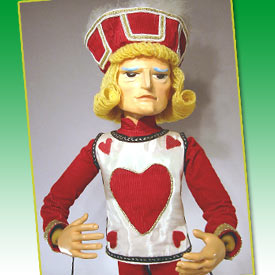 KNAVE OF HEARTS BY
CHRISTINE GLANVILLE
Christine Glanville, a highly respected British puppeteer, was renowned for her particularly striking sculpted heads and highly skilled marionette manipulation. She is best remembered for her work as puppet maker and Chief Puppeteer on Gerry Anderson's many TV marionette series, such as "Torchy", "Stingray", "Captain Scarlet" etc.

The Knave of Hearts (above) is from a Stage Tour in the 1970s. Christine's stage work at that time was mainly using rod puppets. These were often larger rod puppet versions of marionette characters from the TV series she worked on, such as Rupert the Bear and Thunderbirds.

The head, hands and torso of the Knave of Hearts are beautifully sculpted and cast in fibre glass. The puppet and costume were restored in 2000 by Glenn Holden.