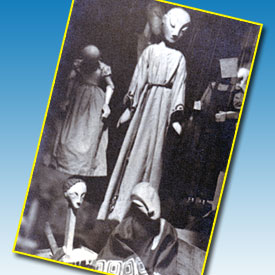 MARIONETTES BY OLIVE BLACKHAM
Olive Blackham was Director of Roel Puppets and began her career in puppetry in a small experimental marionette theatre called "The Ark" which was established in a loft in Kings Heath, Birmingham.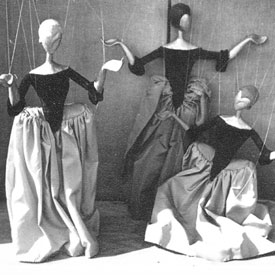 MARIONETTES BY OLIVE BLACKHAM
In 1932, Olive's theatre moved to the Cotswolds and set up in the granary of Roel Farm. Roel Puppets operated from the late 1920s to the mid 1960s, performing marionettes, glove puppets, rod puppets and shadows.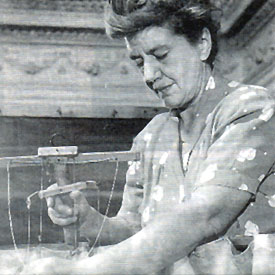 OLIVE BLACKHAM
Olive Blackham, seen here staging a show at the Cheltenham Music Festival in 1948, was the author of the books "Puppets into Actors" (1948) and "Shadow Puppets" (1960).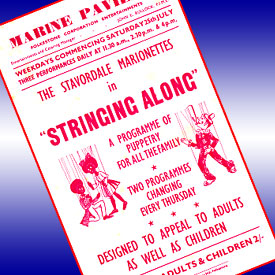 STAVORDALES PLAYBILL
The Playbill here is advertising the Stavordale Marionettes Season at Folkstone Marine Pavilion in 1970.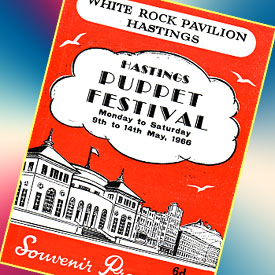 PUPPET FESTIVAL PROGRAMME
Programme from the 1966 Puppet Festival at the White Rock Pavilion, Hastings.

Appearing were: The Lanchester Marionettes, The Jacquard Puppets, The Walford Puppets, The Stavordale Marionettes, Les Petits Comediens De Chiffons, Eric Bramall & Chris Somerville from the Harlequin Marionette Theatre, Jane Phillips from the Caricature Theatre, George Speaight, The Dudley Marionettes, Barry Smith's Theatre of Puppets, John Wright's Little Angel Theatre Company and Violet Philpott's Charivari Puppet Company.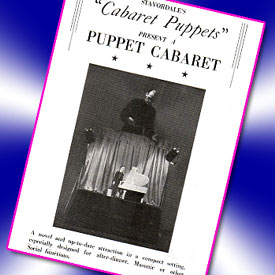 STAVORDALES FLYER
The text reads:

Stavordale's "Cabaret Puppets" Present a Puppet Cabaret.

A novel and up-to-date attraction in a compact setting, especially designed for After-Dinner, Masonic or other Social Functions.

Variety in Miniature

An artistic Entertainment of 30 minutes presented in true Cabaret Style.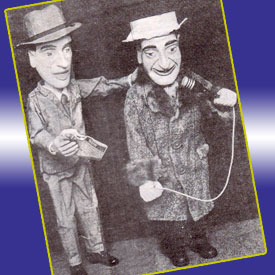 FLANAGAN & ALLEN (STAVORDALES)
Flanagan & Allen Marionettes by Buster & Madge Stavordale.

Buster (Cecil) & Madge Stavordale took up puppetry as a hobby and turned professional in 1947. They were one of the first Puppet Companies to use a tape-recorded backing sound-track, rather than providing live voices for their characters, thus freeing up the puppeteers to concentrate on manipulation.

The Stavordales appeared in schools, private functions and several advertising contracts including the Gas Industry (Mr Therm's Puppets) and most famously, a 7-year contract with Sharps' Toffees Puppet Theatre. This was the Stavordales' own show, but sponsored by Sharps and with Sharps' trademark character "Sir Kreemy Knut", as compere.

On TV, they were puppeteers on Gerry Anderson's early series "Supercar" and the BBC's "Andy Pandy". In 1964, they re-located from London to Westgate-on-Sea in Kent and performed Summer Seasons at Folkstone Marine Pavilion and local Hotels until their professional career came to an end through ill health in 1983.