D'Albert the Royal Entertainer (Ernest Mortimer, 1896 - 1966), was a very versatile showman. His first foray into entertainment was as a ventriloquist and conjuror. He was still in his teens when he bought his first vent figure. While in the Forces during the 1914-18 war, he took his ventriloquist puppet around with him and appeared with Concert Parties to entertain the troops.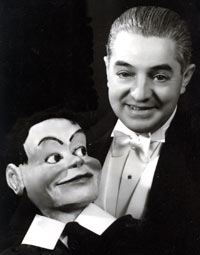 D'Albert (Ernest Mortimer)
On being demobilised in 1919, he achieved his ambition to become a full-time professional entertainer and for no other reason than he liked the sound of it, he adopted "D'Albert" as his Stage Name.
At a Naval Concert in Bradford, he performed before the Duke & Duchess of York (later to become King George VI and Queen Elizabeth) and so became D'Albert the Royal Entertainer.
In 1921, he added Punch & Judy to his routine and in the North West Seaside town of Morecambe, he and his wife Ethel, found a spot on the beach, between a slipway and the Central Pier, where a stepped and angled section of the Promenade wall formed a small amphitheatre. Here they set up their Punch & Judy booth for the 1923 Summer Season and occupied the same pitch for the next 18 years.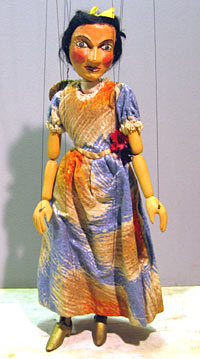 Snow White by D'Albert
By 1925, D'Albert had carved a set of marionettes for which his wife made the costumes. He also devised an ingenious puppet booth in which both glove and string puppets could be presented. So Punch & Judy began to be joined by the marionettes from 1925 onwards and D'Albert became the only entertainer performing both types of puppet in the same fit-up.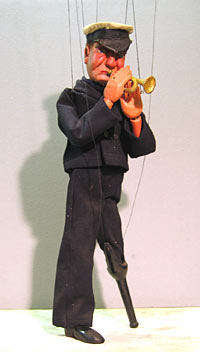 Sailor with Cornet by D'Albert

Among the marionettes were Punch as a marionette, an Organ Grinder & Monkey and a Dutch Boy and Girl with a chorus of 6 Dutch Maidens, all in front of a windmill with revolving sails.
D'Albert was highly influenced by the early Disney full-length animated films "Snow White" and "Pinocchio" and produced his own marionette versions of these two stories. For Pinocchio, he made a particularly splendid Geppetto manipulating a small Pinocchio marionette.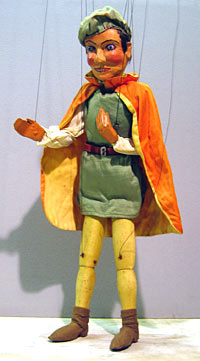 Prince by D'Albert
The halcyon days of Snow White and Pinocchio were soon overshadowed, however, by the sombre days of the Second World War and the 1941 Season proved to be the last Summer Season at Morecambe, as D'Albert and his wife joined ENSA to entertain the troops.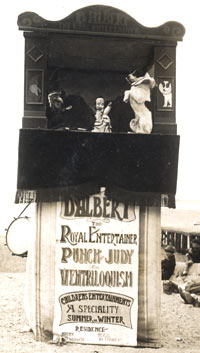 Original D'Albert Booth 1923
They were sent down to the South of England in an 'A Company' of 25 or so artists. After a time, they were given the task of entertaining on their own. Their audiences were mostly isolated units at anti-aircraft gun sites.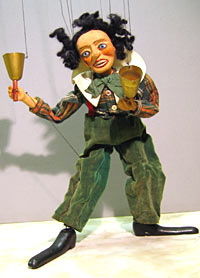 Hand Bell Ringer by D'Albert
After the war, it was back to business as usual. The D'Alberts attended and performed at many Annual Exhibitions in the early days of the Guild. Writing in the Puppet Master in 1949, Arthur Peterson said of them: "I must mention D'Albert, who, while carrying out a week's professional engagement at the Scala Theatre, found time to stage half a dozen shows which, for their novelty and slickness of presentation, should be seen to be believed".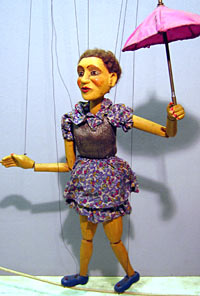 Tightrope Walker by D'Albert
During this time, D'Albert's main stage act remained ventriloquism. He presented an elaborate "Day at the Races" routine with several vent figures on stage at the same time, being operated from off-stage by his wife.
After one season in St Annes-on-Sea in 1950, the D'Alberts became Holiday Camp entertainers on the Isle of Man in 1951 and were to stay there for 5 years. In 1956, they resumed their travels, performing at seasides, parks and parties.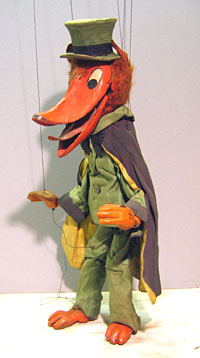 Fox by D'Albert
It had been a strenuous working life and D'Albert had been in Show Business for 40 years when his health began to falter. His marionettes took their final bow and D'Albert finally retired from performing in 1958.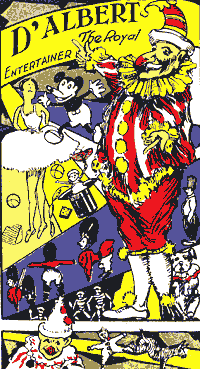 D'Albert Playbill
Many of the D'Albert Marionettes now form part of the Hayward Puppet Collection, housed in the County Museum, Shugborough Hall, Staffordshire.
Due to space limitations, only 3 figures; Snow White, the Prince and the Witch, are currently on display. These three figures appear briefly in the 1985 Douglas Fisher video "Marionette Masterclass".
D'Albert's puppets remain notable for their retention of the traditional Old English 'two stick' control, even on the most complex of characters.
Many of the D'Albert Marionettes now form part of the Hayward Puppet Collection, housed in the County Museum, Shugborough Estate, Staffordshire.